It is very easy!! We apply the process by which there is calculated the value of a directly proportional magnitude to other one, ie, we use a rule of three direct.

We know that the volume of a sphere is:

. So, we have the following:



360º
⇒ &nbspx= &nbsp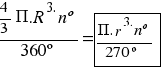 x &nbsp
nº



being n º the number of degrees that the wedge includes and x the volume that we want to calculate (the mystery).